No USERRA Claim Where Vet Terminated Based on Threats Made Against Co-workers
Posted on September 26, 2014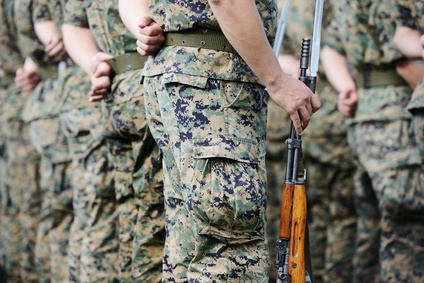 In a recent decision, a judge in the Eastern District of Virginia dismissed the claims asserted by a United States Army veteran with PTSD that his employer had terminated him in violation of both the Uniformed Services Employment and Reemplyoment Rights Act ("USERRA") and the Americans with Disabilities Act ("ADA"). Williamson v. Bon Secours Richmond Health System, Inc., Case No. 3:13-cv-704 (July 28, 2014). In this case, other employees had reported that the plaintiff had made a number of threatening statements about taking violent actions against co-workers. The court found that the employer was entitled to judgment as a matter of law on plaintiff's claims of discrimination under USERRA and the ADA and his failure to accommodate claim under the ADA.

Brandon Williamson, a United States Army veteran suffering from PTSD and a traumatic brain injury, worked for Bon Secours Richmond Health System, Inc. and its subsidiary as an x-ray technician. Around four months after he started working full time for the subsidiary, Williamson's supervisors met with Williams and gave him a written warning regarding some issues with absences and tardiness. At that time, Williamson informed his supervisors that he suffered from PTSD.
Subsequently, Williamson's schedule was changed to one that changed every two weeks. Williamson emailed Paul Junod, the Administrative Director of Bon Secours Human Resources and told him that this kind of inconsistent schedule affected his mental health. Junod then asked Williamson for a note from a doctor explaining how to schedule Williamson. Williamson then sent in a note from his doctor explaining that he was receiving treatment for PTSD and a brain injury and would benefit significantly from a routine daily schedule. Junod and Williamson were scheduled to meet about this issue, but before that happened, another issue came to the surface.
A couple of nurses reported that Williamson had made multiple threatening statements about the practice and his supervisors. These statements included assertions that he was going to kill a supervisor because she talked to him "mean" earlier in the week and that he felt like killing another supervisor for a nasty look he had given Williamson. Junod then obtained written statements from these nurses and also from some other employees who had reported hearing Williamson make threatening statements—discussing killing other employees like his enemies, referring to getting on top of a tall building to kill these other people, comparing the way a supervisor looked at him to insurgents in Iraq, talking about new weapons he had purchased, and also discussing hurting his own therapist. Junod determined that Williamson was a threat to the safety of Bon Secours' patients and employees and that termination was appropriate.
Williamson filed a lawsuit, asserting a failure to accommodate claim under the ADA, a discrimination claim under the ADA, and a discrimination claim under USERRA. The court granted the employer's motion for summary judgment as to all of the claims.
As to Williamson's failure to accommodate claim, the court found that Bon Secours properly responded to Williamson's request for an accommodation related to his schedule. Bon Secours responded to his request by asking for a doctor's note addressing how his schedule should change. As the court explained, this action "falls squarely in line with the ADA's expectations for employers," which allow for the employer to ask for documentation of the individual's functional limitations to support his request. Williamson, p. 7. The court further found that the decision to terminate Williamson did not support a failure to accommodate claim, stating that "t]he ADA does not protect employees who make terrorist threats against the lives of their fellow employees—even if those threats are the unfortunate byproduct of the employee's disabling mental illness." Id., p. 8.
Based on Williamson's denial that he had made any of the threats as alleged, the court found that he may have stated a prima facie case of discrimination in violation of the ADA. But, the court found, Bon Secours was able to state a legitimate, nondiscriminatory reason for the termination. Here, Bon Secours had direct evidence in support of its reason for terminating Williamson-both the testimony of the decision-maker and the written statements he had relied upon. Id., p. 11. Further, the court found that there was no evidence of pretext as there was no evidence that the supervisor did not believe the reliability and veracity of the reports about the threats or evidence to counter the supervisor's testimony that Williamson's PTSD was not considered in making the decision.
Finally, the court found that there was no evidence to support Williamson's claim that he was subjected to discrimination in violation of USERRA. As the court explained,
In order to prevail on a USERRA claim, "there must be an initial showing by the employee that military status was at least a motivating or substantial factor in the [employer] action, upon which the [employer] must prove, by a preponderance of the evidence, that the action would have been taken despite the protected status.
Id., p. 12 (quoting Sheehan v. Dep't of the Navy, 240 F. 3d 1009, 1014 (Fed. Cir. 2001)). Here, the court found, there was no evidence to show that the decision to terminate Williamson was "in any way connected to his military service." Id. In fact, the court explained, the fact that Bon Secours knew of Williamson's military service cut against him because Bon Secours had known about it and still hired him twice, first in a part time capacity and then in a full time capacity. Additionally, as soon as Bon Secours became aware of Williamson's PTSD, it sought to accommodate this condition. Id., p. 13. Further, the court rejected the argument that Bon Secours' anti-military bias was shown by the fact that Bon Secours relied upon some of the threats that mentioned Williamson's military service. As the court explained,
It is perverse and illogical to argue that placing death threats within a military context provides—under any law—corresponding immunity from sanction. USERRA is intended to safeguard a service member's job while that service member serves his country. Williamson's claim would treat that well-intentioned law as a "get-out-of-jail-free" card, absolving any misconduct that refers to or touches past military service.
Id., p. 14.