Is Advance Notice of Termination Required?
Posted on June 15, 2016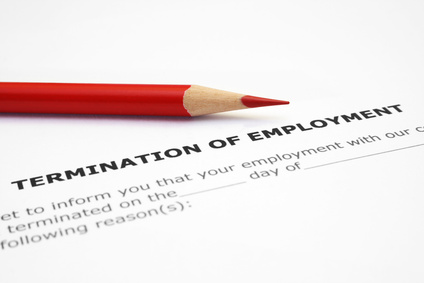 the situation
Based on your current business needs, you decide to terminate a long-standing employee.  You make the termination effective immediately.  Does the employee have a right to claim that she should have been given advance notice of her termination?
the ruling
Earlier this month, the Virginia Supreme Court ruled that as long as the employment relationship is at-will, employers do not have to provide advance notice before terminating the employment relationship under Virginia law.  Johnston v. William E. Wood & Assoc., Inc., Record No. 151160 (June 2, 2016).
Brenda Johnston worked for real estate services firm William E. Wood & Associates for seventeen years as an at-will employee.  William E. Wood terminated Johnston with no notice and she filed a lawsuit, claiming she was wrongfully discharged and that William E. Wood had breached an implied term of her employment contract.
In support of her claim, Johnston pointed to a longstanding principle of Virginia law that when an employment contract does not specify a time period for its duration, "either party is ordinarily at liberty to terminate at-will on giving reasonable notice of his intention to do so."  Stonega Coal & Coke Co. v. Louisville & Nashville R.R. Co., 106 Va. 223, 2226 (1906) (emphasis added).   The gist of Johnston's argument was that reasonable notice means advance notice.  The Virginia Supreme Court disagreed, explaining that "[i]mposing a requirement of reasonable advance notice is antithetical to the flexibility that lies at the heart of the at-will doctrine and would undermine the indefinite duration element of at-will employment."  Johnston, p. 3.
The court also pointed out that ruling otherwise would create a huge amount of uncertainty in employment relations.  After all, as even Johnston acknowledged, what would be considered reasonable would vary in differing employment situations.  This could mean that every termination decision could become a question for a jury to decide—which is not consistent with the flexibility the at-will employment doctrine is meant to reflect.   Instead, the phrase reasonable notice just means "effective notice that the employment relationship has ended."  Id. at 5.
the point
The Johnston decision is a good decision for employers, as it reaffirms the intended flexibility of the at-will doctrine by definitively concluding that reasonable notice does not equal advance notice.  Of course, just because the law does not require advance notice does not mean that it isn't sometimes a good idea to give some notice in certain scenarios where possible—if only to avoid dealing with a disgruntled employee looking for a potential claim.