Can Ability to Work Overtime Be an Essential Function of a Job?
Posted on March 21, 2018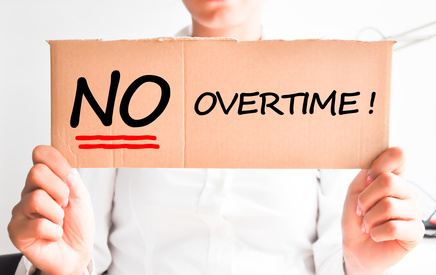 the situation
An employee's medical condition prevents him from being able to work overtime.  If the employer terminates him as a result, could this be disability discrimination?
the ruling
Maybe not.  A federal court in Texas recently granted an employer's motion for summary judgment in a case involving this issue, finding that overtime was an essential function of the plaintiff's job.  Jiles v. Wright Medical Tech., Inc., Case No. 4:16-cv-0280 (S.D. Tex. March 13, 2018).
Quentin Jiles was a delivery specialist for Wright Medical Technology. He was responsible for picking up and delivering medical implants and instruments from hospitals and surgery centers.  He worked overtime on a regular basis, especially in emergency medical situations.
After Jiles was hurt in a car accident, he had some resulting medical issues. When he returned to work, his doctor indicated that he could not work overtime.  Ultimately, Wright Medical determined that it could not accommodate his medical restrictions and terminated him. Jiles brought a claim for disability discrimination.
One of Wright Medical's arguments was that Jiles was not a qualified individual with a disability because he could not perform the essential functions of his job.  According to Wright Medical, Jiles' written job description states that working overtime is an essential function of the position and, in fact, Jiles was told that when he took the job.  Additionally, as a practical matter, before he was out of work, Jiles did work a fair amount of overtime, as did the other delivery specialists (in fact 37 of the 42 delivery specialists worked overtime during the pay cycle before Jiles' termination).  Based on all of this, the court ended up agreeing with the employer, concluding that Jiles was not qualified for the delivery specialist job given that he was restricted from working overtime.
the point
A critical part of the court's analysis here was not just what the employee's job description said about his essential functions, but also what he was actually doing in his job.  If the reality was that delivery specialists like Jiles really only worked overtime every now and then, the employer would have had a harder time convincing a court that this was truly an essential function of the job.  When considering disability accommodation issues, employers need to be careful to not just look at what they say an employee's functions are on paper, but also focus on what they are actually doing day to day.