Employers face possible claims for failure to accommodate even where there is no actual knowledge of a need for accommodation
Posted on June 5, 2015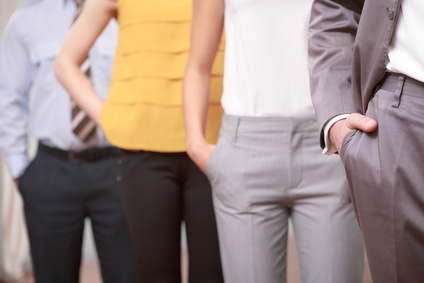 Back in March, I posted about the case before the United States Supreme Court involving a girl who claimed that she was discriminated against because of her religion when Abercrombie & Fitch didn't hire her because of her headscarf. The Tenth Circuit had found that because the plaintiff did not inform Abercrombie before its hiring decision that her practice of wearing a headscarf was based on her religious beliefs and that she would thus need an accommodation. On Monday, the Supreme Court reversed that decision, holding that to prevail in an disparate treatment claim under Title VII, an applicant must only show that her need for an accommodation was a motivating factor in the employer's decision, and not that the employer actually knew of her need. EEOC v. Abercrombie & Fitch, Inc., 575 U.S. ___ (2015).

In this case, the plaintiff had worn a black hijab to her interview. She never discussed the headscarf during her interview or the fact that she was Muslim during her interview or asked for some sort of accommodation to address the conflict between her practice of wearing the hijab and the store's "no caps" policy. After she wasn't hired, she claimed that Abercrombie had failed to accommodate and thus engaged in religious discrimination.
Abercrombie argued that because the applicant had failed to inform it of a conflict between Abercrombie's policy and her religious practices, there was no basis for her Title VII claim. While the district court rejected this argument, the Tenth Circuit agreed. But the Supreme Court held otherwise. An applicant does not have to show that an employer has actual knowledge of the need for an accommodation, but instead, "an applicant need only show that his need for an accommodation was a motivating factor in the employer's decision." Id, p. 3. As the Supreme Court explained, "[a]n employer may not make an applicant's religious practice, confirmed or otherwise, a factor in employment decisions." Id., p. 5. "A request for accommodation, or the employer's certainty that the practice exists, may make it easier to infer motive, but is not a necessary condition of liability." Id., p. 6.
Basically, if a discriminatory motive is present, whether or not the applicant or employee specifically asks for the accommodation is not determinative. This could make it easier for plaintiffs to initially state claims for failure to accommodate based on known religious practices even where they haven't requested any sort of accommodation.