"Caring Supervisor" or Sexual Harassment?
Posted on August 2, 2017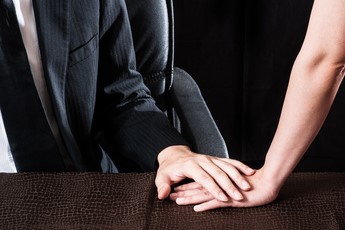 the situation
A supervisor has a history of making some inappropriate statements to a female employee under his direction, including commenting on her physical appearance.  When the female employee ends up facing possible disciplinary action, the supervisor meets with her.  He puts his hand on hers, tells her he doesn't want to lose her and says he hopes they can work something out to keep her.  Could this be quid pro quo sexual harassment?
the ruling
Maybe, according to a recent decision by the Eastern District of Virginia.  O'Mara v. Va. Dept. of Corrections, Case No. 2:16cv489 (June 2, 2017).  Danielle L. Kramer O'Mara was hired by the Department of Corrections in Suffolk, Virginia as a probation and parole officer.  For her first year of employment, she was in a probationary status, working under chief probation officer Grant Knight.
O'Mara's employment with the Department of Corrections lasted only a few months.  According to the DOC, she was fired based on a number of violations of policy and misconduct.  But O'Mara claims that was really just a pretext for Knight's decision to fire her after she would not submit to his sexual advances.
According to O'Mara, during her brief employment with the DOC, Knight made a number of inappropriate comments to her, including complimenting her figure, telling her he was distracted by how good she looked in her pants, and making references to whether she was meeting her "wifely duties," and on one occasion touching her lower back and buttocks while helping her get in the car.
Following some allegations that she had violated policies, Knight came to talk to O'Mara and shut the door to her office.  O'Mara asked Knight if she was going to be fired.  According to O'Mara, Knight laughed and said he did not think so, then reached his hand across her desk, put it over hers and rubbed her hand with his thumb. O'Mara claims that Knight told her she was a very special officer and he did not want to lose her, that he hoped they could work something out to keep her, and that he had special feelings for her.  O'Mara claims that she removed her hand and reminded him that she was married, as was he, and that his feelings were not mutual.   Not long after, O'Mara was fired.  The document related to her termination cited three instances of misconduct.  O'Mara brought a lawsuit, alleging quid pro quo sexual harassment, retaliation, gender discrimination and wrongful discharge in violation of Virginia public policy.
The DOC moved for summary judgment on all of the claims.  In support of its motion related to the quid pro quo claim, the DOC claimed that O'Mara could not show that Knight's touch of her was inappropriate, and was instead consistent with that of a "caring supervisor."  After all, Knight never used the words sex, affair or relationship, nor was his touching overtly sexual. But, the court pointed out, a plaintiff does not have to show that there was an explicit request for sex to support a quid pro quo claim. Instead, whether a person's actions are a proposition for sex is an issue of fact to be determined by the jury—and here, the plaintiff was able to show that she had been subject to unwelcome sexual conduct based on the previous comments of Knight.  In light of the facts here, Knight's actions might reasonably be considered by a jury to constitute an implied proposition for sex in exchange for not terminating O'Mara's employment.
the point
A quid pro quo claim of sexual harassment won't necessarily fail because there was no specific sexual proposal made.  Instead, if a supervisor's conduct could be viewed as an implied proposition for a sexual favor in exchange for not taking some sort of adverse employment action, an employer may still face liability under Title VII.