Your Employees Agreed to Comply with the Employee Handbook—So Can't You Hold Them to it?
Posted on December 16, 2015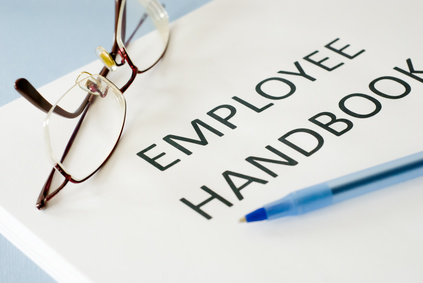 the situation
Your employee handbook requires that employees submit all employment issues to an internal dispute resolution process and then arbitration and provides that employees waive all rights to bring a lawsuit and to a jury trial. You provide a copy of the employee handbook to all employees and require that they sign a statement explicitly acknowledging receipt of the handbook and agreeing to comply with its terms. Can an employee then get around the arbitration provision and file a lawsuit?

the ruling
Yes–if your employee handbook clearly states that it is not a contract, then an employee may not be bound by a mandatory arbitration provision (or presumably any other provision contained in the handbook). The Fourth Circuit Court of Appeals recently affirmed the lower court's decision denying an employer's motion to compel arbitration under these circumstances, finding that the employer had failed to produce evidence demonstrating that the employee had agreed to arbitrate any of her claims. Lorenzo v. Prime Communications, L.P., No. 14-1727 (4th Cir., October 27, 2015).
Rose Lorenzo worked for Prime Communications, a retailer of AT&T wireless devices, in one of its retail stores, selling cell phones and service plans. She began as a solutions specialist and then became store manager. She ultimately filed a claim against Prime Communications, asserting that Prime incorrectly calculated her commissions and bonuses and failed to pay her overtime pay in violation of the FLSA and North Carolina wage and hour laws. The employer filed a motion to compel arbitration, relying on an arbitration provision contained in its employee handbook. The handbook stated that all employment issues would first go to an internal dispute resolution process, then to mediation and then to arbitration. It also stated that employees "waived all rights to bring a lawsuit and to a jury trial regarding any dispute," including claims under the FLSA. Lorenzo had signed a form acknowledging receipt of the handbook when she first started working for Prime. This form stated that she understood she was responsible for reviewing the handbook and that she agreed to comply with its provisions, but also contained language often found in employee handbooks that no provision contained therein should be construed to create any promises or contractual obligations between Prime and its employees and that she understood the information contained in the handbook served as "guidelines only and are in no way to be interpreted as a contract."
The employer argued that Lorenzo had agreed to arbitrate all disputes relating to her employment by agreeing to all of the provisions of the handbook.   The employer claimed that the arbitration provision was binding and severable from the rest of the handbook regardless of whether the handbook was considered a contract overall. The district court and the Fourth Circuit disagreed. Even if there was some sort of implied assent to arbitration created by Lorenzo's receipt and review of the handbook and her continued employment, it was nullified by the "express agreement" of the parties not to be bound by the terms set forth in the handbook.
the point
Employers frequently (and often appropriately) include a provision in their handbooks stating explicitly that it does not create a contract between it and its employees. But just remember this cuts both ways—the employee is precluded from claiming entitlement to any rights pursuant to the handbook, but so is the employer.