Federal Court Blocks Overtime Changes
Posted on November 23, 2016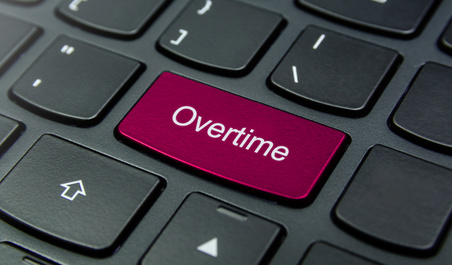 the situation
Back in September, 21 states filed a lawsuit in federal court in Texas challenging the constitutionality of the rule changes scheduled to go into effect on December 1.  State of Nevada v. U.S. Dept. of Labor, Case No. 4:16cv00731 (E.D. Tex.).  The states (and many other business groups that ended up joining the states) claimed that DOL had exceeded its authority in making these changes and that these changes are in violation of the Tenth Amendment to the Constitution.  The states sought a preliminary injunction preventing the implementation of the new overtime rules.
the ruling
Just yesterday, the federal court granted the states' motion—issuing a nationwide preliminary injunction, saying that the DOL had overstepped in making these changes.
The new overtime rules significantly increased the salary minimum for many white collar exemptions from $23,600 to $47,476 and also instituted an automatic update mechanism, so that the minimum salary would be automatically increased every three years.  The states claimed that in issuing this Final Rule, the DOL exceeded its authority by essentially establishing a federal minimum overtime-exempt salary and by implementing the new indexing mechanism for automatic increases every three years.  The states sought a nationwide preliminary injunction to basically stop the rule from going into effect on December 1 as planned.
The federal court issued the preliminary injunction.  In reaching this decision, the court found that the states had shown a likelihood of success on the merits of their claim because the Final Rule does not comport with Congress's intent in enacting the FLSA and that the DOL had exceeded its authority in issuing this Final Rule. Further, the court found that the states would suffer irreparable harm if the injunction were not granted.
the point
Although the injunction issued is only temporary, the judge's ruling indicates he is likely to ultimately rule in favor of the states.  For now, employers are no longer faced with a deadline of December 1 to come into compliance with these new regulations. Of course, those employers who had decided to implement changes in advance of the December deadline might now be in a tough spot in terms of their employees' expectations and will have to carefully evaluate how to proceed in light of this significant development.