I-9 Audits—What You Need to Know to Be Prepared
Posted on May 23, 2014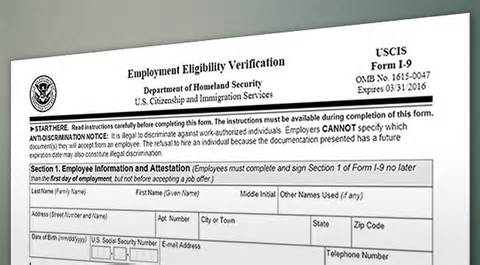 In 2010, Abercrombie and Fitch agreed to pay $1,047,110 to settle with ICE following an I-9 audit in which it was revealed that there were numerous technology-related deficiencies in its electronic I-9 verification system.  In 2012, after an investigation and audit of its I-9 forms, a restaurant in Dayton, Ohio was fined more than $20,000 for failing to comply with employment eligibility verification requirements.  In that case, ICE conducted the I-9 inspection after receiving information from the local police department that the company employed illegal aliens.  The restaurant ultimately reached a settlement with ICE, agreeing to pay $21,692.00.
As these examples reveal, your company's failure to comply with I-9 regulations can be extremely costly.  Additionally, along with potential fines, you could also face criminal charges or debarment.

Each and every time you hire any person to perform labor or services in the United States in exchange for wages or other renumeration, you need to complete an I-9 form, pursuant to the Immigration Reform and Control Act of 1986 ("ICRA"). The I-9 form, or "Employment Eligibility Verification" form is the mechanism by which employers verify the identity and work authorization of their employers. In recent years, U.S. Immigrations and Customs Enforcement ("ICE") have stepped up their efforts and the number of I-9 audits has increased significantly. This means that employers need to also step up their efforts and be certain that they are in compliance before they find out they are going to be audited.
When are I-9s required?
You need to have an I-9 on file for each and every employee hired after November 6, 1986. You need to have a completed I-9 on file for each employee within three days of that person's first day of employment. You can only begin the I-9 process after you have offered employment to an individual and he or she has accepted employment.
If an employee is re-hired by your company, you still need to complete a new I-9 form, unless the re-hire occurs within three years of the completion of the initial I-9 in connection with the previous period of employment.
Furthermore, if you contract with other companies, make sure they have I-9 forms for each of their employees. If your company contracts with another company and you know the some of the contractor's employees are not authorized to work in the United States, you could be penalized too.
Who completes the I-9 form?
The employee should complete Section 1 of the form on his or her first day of employment. You cannot complete this part of the form for the employee. The employee needs to fill in the correct information and sign and date the form. If a preparer or translator is required, the preparer or translator must read the form the to the employee, assist with the completion of Section 1, have the employee sign the form, and then complete the Preparer and/or Translator Certification Block.
You are in charge of completing Section 2 of the form. The employee must present an original document or documents that verify his or her identity and employment authorization within three days of the first day of his or her employment. There are different categories of documentation that can be provided, as set forth in the lists which are contained on the I-9 form. List A documents establish both identity and work eligibility. List B documents only establish identity. List C documents only establish work eligibility. It is the employee's choice to determine which documents to provide. If the employee provides a List A document that verifies both identity and work eligibility, that is sufficient and you should not review any other documents.
How long do I-9 forms need to be retained?
You must keep completed I-9 forms as long as an individual is employed with your company. After the employment ends, you must keep the I-9 form for that individual for three years after the date of hire or one year after the date employment is terminated, whichever is later. The I-9 forms can be kept in paper or electronically. You can store I-9 forms electronically using most commercially available computer programs and data processing systems, as long as it complies with certain standards and it is not subject to any agreement that would restrict access to and use of it by an agency of the United States. If you keep the I-9 forms in paper form off-site, you must be able to present them within three days of an inspection request.
Should you keep copies of the verifying documents?
It is the employer's choice whether to retain copies of the documents presented by employees in connection with the verification. Retention of these copies is advisable, however, note that if you retain the copies for some employees, you must retain them for all employees. A representative of the employer must examine the original document(s) provided and the employee must actually be physically present with the employee for this examination. The person who examines the supporting documents must be the same person who signs Section 2 of the I-9 form on behalf of the employer.
The requirement of the examination of originals and the physical presence of the employee for the examination can pose a challenge for regional or national companies with centralized management. Your human resources department, if located in a different geographical region, may not be able to handle all I-9 completions. Instead, you will need to insure that all local managers or supervisor are trained and capable of completing I-9 forms properly. It is a good idea to have written policies in place for easy reference to insure that the proper steps are followed.
What if some of the verifying documents expire during the period of employment?
When an employee's employment authorization document expires, you must re-verify his or her employment authorization no later than the expiration date. You can either use Section 3 of the I-9 form to re-verify or a new I-9 form. If the employee cannot provide you with documentation sufficient to re-verify, you cannot continue to employ him or her. Note that United States citizens and noncitizen nationals do not need to be re-verified. Therefore, you do not need to re-verify an expired United States passport, an Alien Registration Receipt Card/Permanent Resident Card or a List B document that has expired.
What if you find out an employee was previously using a false identity but is now authorized to work in the United States?
The I-9 rules do not require that you terminate the employment of a person who previously used a false identity if he or she is not authorized to work. However, as with all employment practices, it is always best to be consistent and so if your company's policies and/or practices are that you terminate or discipline an employee upon discovery that he or she has provided fraudulent information, you should act accordingly.
Strict compliance with the rules relating to I-9 forms is imperative. To insure compliance with the rules relating to the completion and retention of I-9 forms, employers are well advised to arrange for an audit of their policies and practices before they find out you are subject to an audit by a federal agency.