Does Refusing a Request to Work Remotely Equal Discrimination?
Posted on March 7, 2018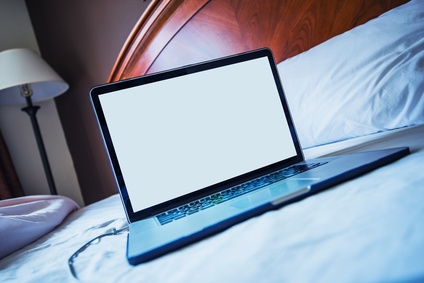 the situation
An employee has to be on bed rest for a number of months because of a medical condition.  She requests that you allow her to telecommute.  But because her job duties involve a lot of in person presentations and face to face meetings, you deny this request and require her to take unpaid leave.  Could this be disability discrimination?
the ruling
Maybe.  The Sixth Circuit Court of Appeals recently affirmed the decision of a district court upholding a jury verdict in favor of an employee in similar circumstances.  Mosby-Meachem v. Memphis Light, Gas & Water Division, Case No. 17-5483 (6th Cir. February 21, 2018).
Andrea Mosby-Meachem was an in house attorney for Memphis Light, Gas & Water Division.  When Mosby-Meachem was 23 weeks pregnant, she ended up having to be hospitalized.  Following surgery, her doctors placed her on modified bed rest for ten weeks.  She asked to be able to work from home for this ten week period.  Memphis Light denied this request, stating that physical presence was an essential function of her job and that teleworking would create confidentiality issues.
Mosby-Meachem ended up suing Memphis Light, claiming pregnancy discrimination and disability discrimination.  The jury returned a verdict in her favor on her claim of disability discrimination and awarded her $92,000 in compensatory damages.  Memphis Light appealed when the lower court denied its motion for judgment as a matter of law or for a new trial.
One of Memphis Light's main arguments was that it was entitled to judgment as a matter of law because there was not sufficient evidence that Mosby-Meachem could have effectively performed all the essential functions of her job while telecommuting for ten weeks.  Memphis Light's argument was based on a prior Sixth Circuit case (EEOC v. Ford Motor Co., 782 F.3d 753 (6th Cir. 2015)) in which the court had stated that regular, in person attendance is an essential function of most jobs, particularly interactive ones.
But the Sixth Circuit found that this case was different.  Although Memphis Light took the position that in-person attendance was an essential function, pointing to the fact that many of the duties listed in Mosby-Meachem's job description clearly required physical presence, including interview and deposing witnesses, trying cases in court, and supervising and training other employees.  But, in fact, Mosby-Meachem had presented evidence otherwise, including testimony from Memphis Light employees and outside counsel that they thought she could perform her job from home and the fact that in her entire eight years she had worked for Memphis Light prior to this request for accommodation, she had never tried cases in court or taken depositions. Additionally, Mosby-Meachem had presented evidence that Memphis Light did not actually engage in an interactive process with her when she requested this accommodation.  Under these circumstances, the Sixth Circuit found that the lower court's denial of Memphis Light's motion for judgment as a matter of law was correct.
the point
The employer here focused solely on the job duties listed in the employee's job description. But it completely failed to consider what the employee was actually doing on a day to day basis.  Whenever an employee makes a request for a reasonable accommodation, an employer needs to do a fact specific inquiry, which necessarily includes an assessment of not only an employee's job description, but also his or her actual day to day activities, and determine what sort of room there may be for granting the accommodation.